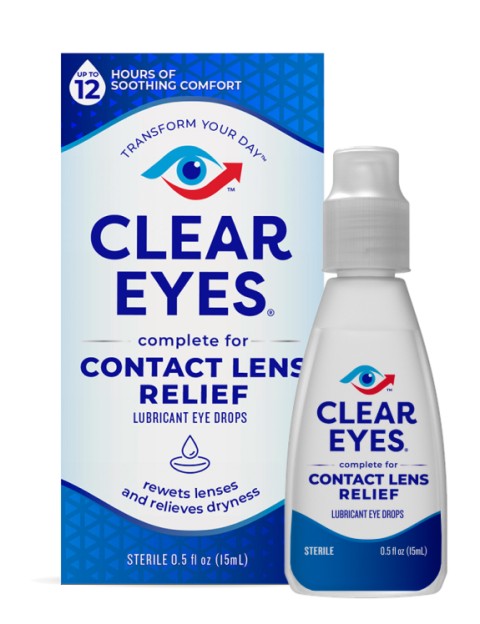 Clear Eyes® Contact Lens Multi-Action Relief
Get relief from irritation, mild dry eyes and contact lens discomfort.
Sterile buffered solution refreshes and lubricates eyes
Can be used as needed while wearing contact lenses
Rewets contact lenses
Helps remove particles from lenses
Provides up to 12 hours of soothing comfort
DIRECTIONS:

Clear Eyes® Contact Lens Multi-Action Relief may be used as needed throughout the day
If minor irritation, discomfort or blurring occurs while wearing lenses, place 1 or 2 drops on the eye and blink 2 or 3 times
If discomfort continues, immediately remove lenses and immediately see your eye care professional

How Supplied:

Clear Eyes® Contact Lens Multi-Action Relief is supplied in sterile 0.5 fl oz (15 mL) plastic bottles
The containers and cartons are marked with lot number and expiration date
Do not use this product if neckband is broken or missing

Lenses:

Clear Eyes® Contact Lens Multi-Action Relief is indicated for use with daily and extended wear soft (hydrophilic) contact lenses as recommended by your eye care professional

A sterile, isotonic solution with a borate buffer system, sodium chloride, hypromellose and glycerine, plus sorbic acid (0.25%) and edetate disodium (0.1%) as the preservatives.

CONTRADICTIONS:

(Reasons Not to Use): Patients allergic to any ingredient including sorbic acid (preservative) in Clear Eyes® Contact Lens Multi-Action Relief should not use this product.
All contact lens wearers must see their eye care professional as directed. If your lenses are for extended wear, your eye care professional may prescribe more frequent visits.
Never touch the dropper tip of the container to any surface, since this may contaminate the solution. If drops turn yellow, discard and use fresh (colorless) drops.
Replace cap after every use.

PRECAUTIONS:

Always wash and rinse your hands before handling your lenses
Store at room temperature
Keep container tightly closed when not in use
Use before the expiration date marked on the containers and cartons
Keep this and all medications out of the reach of children

ADVERSE REACTIONS (PROBLEMS AND WHAT TO DO):

The following problems may occur while wearing contact lenses:

Eyes stinging, burning or itching (irritation)
Excessive watering (tearing) of the eyes
Unusual eye secretions
Redness of the eyes
Reduced sharpness of vision (visual acuity)
Blurred vision
Sensitivity to light (photophobia)
Dry eyes
If you notice any of the above problems, immediately remove and examine your lenses

If the problem stops and the lenses appear to be undamaged, thoroughly clean, rinse and disinfect the lenses and reinsert them. If the problem continues or a lens appears to be damaged, IMMEDIATELY remove your lenses and IMMEDIATELY consult your eye care professional. Do not reinsert a damaged lens.

If any of the above symptoms occur, a serious condition such as infection, corneal ulcer, neovascularization or iritis may be present. Seek immediate professional identification of the problem and treatment to avoid serious eye damage.

Transient contact urticaria (temporary red wheals or streaks on the skin) may occur from use of this product.