Clear Eyes® Eye Care Blog
Lauren Chan's Shining Moment Helping Plus-Sized Women Look and Feel Their Best

IMAGES PHOTOGRAPHED BY KATHY LO FOR REFINERY29
Lauren Chan, former fashion editor, model and now founder and CEO of fashion brand Henning, is someone who has truly shined throughout her career. In Refinery 29's new feature article, Lauren talks about how she took a leap of faith to bring her vision for plus-size workwear to life.
Lauren is a shining example of how our career paths don't always follow a straight line to our dreams, and how sometimes our path to achieving those dreams can surprise us. After graduating college, Lauren wanted to move from Canada to New York to become a fashion editor but couldn't get a visa. So, she answered an open call for plus-size models and got a visa to move to New York as a model.
While modeling, Lauren interned as a writer for fashion magazines and then was hired as a fashion features editor. Paying special attention to the plus-size beat, her writing led to appearances on TV morning shows and a collaboration with a major plus-size fashion brand, with her as a designer.
Though Lauren had never designed before, she understood first-hand how difficult it can be to find trendy pieces that fit bodies like hers. She soon realized she had been reporting for years on luxury brands she had never worn because those brands didn't design for plus sizes. Envisioning an opportunity to do more, Lauren left her role at the magazine to start a workwear brand, Henning. "I didn't go to fashion school, I'd never made clothes on my own before, and I'd never run a business," she says. "Everything I was doing after leaving my fashion job was new to me." 
Lauren was determined to create a line of fashionable workwear plus-size women could feel comfortable in. Her decisions, both in business and throughout her career, have been guided by one principle: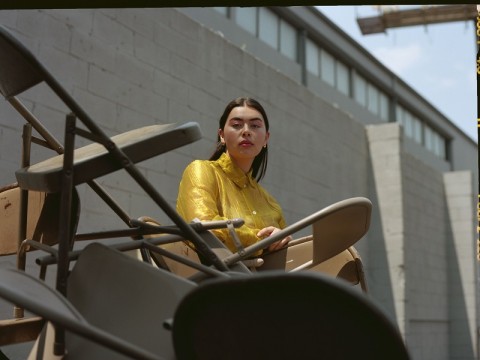 "...to make women who have felt excluded and disadvantaged in life because of their size feel included and capable and valuable through fashion." She explains, "I always thought my means to that end was through magazines and content ...Now, I'm doing that through being an entrepreneur and providing product to her."
Becoming her own boss was a big adjustment, but Lauren emphasizes that recognizing your wins is important—and every day, whether big or small, there's a shining moment.
At Clear Eyes, we want to celebrate those shining moments in life when we look and feel our best. You can read more about Lauren Chan's path to success and how she is helping others look and feel their best in "Lauren Chan Couldn't Find The Perfect Plus-Size Workwear, So She Designed It Herself."