Clear Eyes® Eye Care Blog
Shaquan Hoke Uses Her Journey from Homelessness to CEO to Help Others Transform Adversity into Shining Moments

IMAGES PHOTOGRAPHED BY KATHY LO FOR REFINERY29
Shaquan Hoke, founder and CEO of Beyond A J.O.B., overcame abuse and homelessness to truly shine as an entrepreneur. In Refinery 29's new feature article, Shaquan talks about how a nonprofit gave her confidence to succeed and how she now inspires other women to find their own light out of adversity.
Shaquan's first life-changing moment came through Dress for Success. A single mom and homeless, Shaquan stood looking at herself in the first business suit she ever owned and felt her world shift. Being used to people treating her indifferently due to her economic status, she was initially afraid to go to Dress for Success, but everyone there was friendly and open, like family. "I was treated with respect [there], and most importantly, I was seen. I mean, they saw me."
They saw her and they helped her get a job with an employment services organization. Shaquan was so grateful to DFS, she volunteered there, eventually moving from sorting donated clothes to conducting career workshops and organizing fundraisers.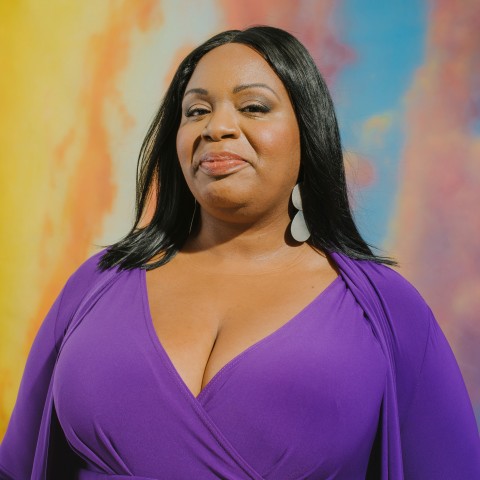 "I learned from being mentored by the staff at DFS that I have a strong voice and that my past experience is a light to help others," she says. "I learned that my past made me stronger and that it's okay to fall down but not stay there."
She certainly didn't stay down, even though she was laid off four years later. This time, instead of despair in adversity, Shaquan felt confidence. She knew she could turn to the group of women who'd become a constant in her life and became an employee at Dress for Success.
Coaching women with similar backgrounds to achieve their own success motivated her to start Beyond A J.O.B. Inc., a career and employment consulting company. "I transitioned from the idea of being [employed by someone else] to actually taking ownership of the skills I earned through the years, [while] being able to monetize those gifts. People saw the value I had, and it was amazing to me to have that first client and to earn income from the skills I brought to the table."
She even started her own philanthropic project, The Courage to Give, to help at-risk homeless women in her community. Now, she's taking master's-level classes and investing in properties—one of which she plans to convert to a space for teenage mothers to rebuild their lives—in addition to expanding Beyond A J.O.B. She says, "I need to help others who are struggling just like I was. And to be able to speak life into them in the way that it was spoken to me, I'm just honored to be in a position to do that."
At Clear Eyes, we want to celebrate those shining moments when we overcome adversity to find our own shining light. You can read more about Shaquan Hoke's journey from homelessness to CEO and how she inspires others to succeed in "How I Went From Being A Homeless Single Mom To An Entrepreneur & CEO."